About Lesson
How can you enter in Automobile Industry ?

You have to complete professional degree, diploma or certificate course in automobile. If don't have any professional degree in automobile, still you can enter in automobile by gaining the knowledge of automobile from local shop or service station and work as technician in this field. But, if you want to work in core automobile fields (Design & Analysis, Production and Operation) then you have to complete professional courses.
In india, there are different no. of courses started related to automobile industry. After completion of these course, you can easily get into thise fields.
Here are the some Degree/Diploma or Certificate courses
Degree Courses
B.Tech. Automobile Engineering
B.Tech In Mechanical Engneering
M.Tech in Automobile Engineering
B.E. In Auomobile or Mechanical Engineering.
Diploma Courses
Diploma in Automobile Engineering.
Diploma in Mechanical Engineering.
ITI in Motor Mechanic Vehicle.
In Automobile, We have to deals, Mechanical, Electrical, Electronic, and Software elements. So if you specific degree or diploma in these field you can also work in automobile industry.
Here are also some specific post graduate course you can do
Post Graduate Program in Hybrid Electric Vehicle Design and Analysis
Post Graduate Program in Autonomous Vehicles
Post Graduate Program in Design for Crashworthiness and Analysis
Post Graduate Program in Computational Fluid Dynamics
Post Graduate Program in CAD
Post Graduate Program in CAE
Certificate Courses in Automobile Industry
Fundamental of Automobile Engineering.
Automation using TCL/TK for Hypermesh.
Showroom Hostess/Host :- Auto Dealership.
Auto component assembly fitter.
Model-Based Automotive system engineering.
Certified Automobile Compression Moulding Junior Operator.
Certified Automobile Extrussion Moulding Operator.
There are numberous job opportunity in automobile industry. There is great number of employment opportunity in the following fields:
Private national and multinational automobile companies.
Service Station.
Private transport companies.
Defence services
Self-employment by setting up automobile garage or maintenance workshop.
R&D
Production plants
Motor vehicle departments of control
Insurance company experts
Transport companies
State transport corporations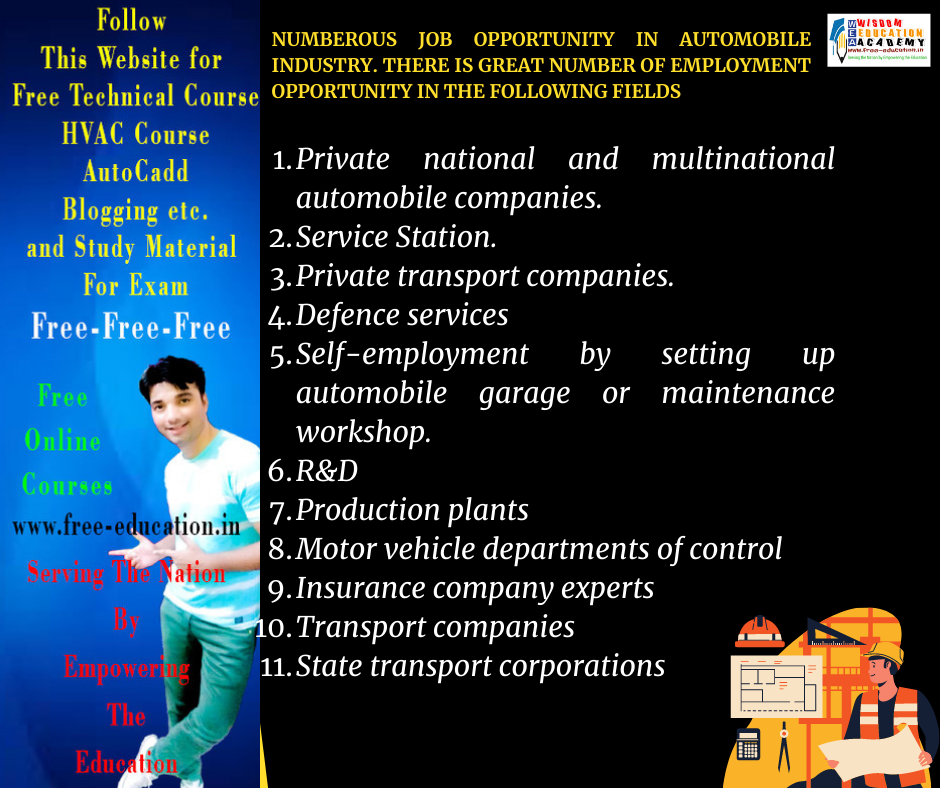 There are plenty of employment opportunities for the qualified people and they can select a career in automobile industy, which leads to bright future.
Who This Career is For ?
A career as an automobile engineer is for people who are driven and passionate about cars. They must have considerable understanding and interest in mechanics, electronics, and mathematics are these are vital skills required for this career path.
People in this career are required to communcate with other professionals on a regular basis, both from within the field and outside it.
Job Roles of an Automobile Engineer:-
Automobile Engineer
Automobile Designer
Vehicle/Car Designer
Executive & Managerial Positions
Automotive Design Engineer
Automotive Engineering Technician
Service Advisor
Contract & Warranty Executive.
EDP
Car Evaluator
Mechanic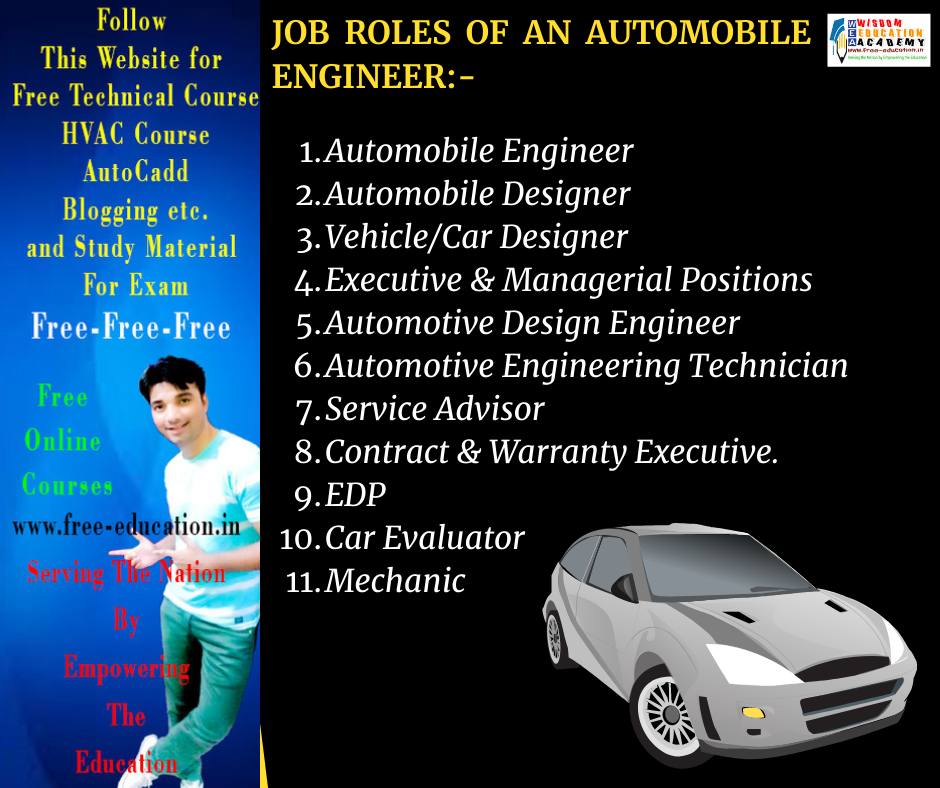 Automobile Company List Where You Can Apply :-
Indian Manufacturing Company
Ashok Leyland (1948–present)
Bajaj Auto (1945–present)
Eicher Motors (1948–present)
Force Motors (1958–present)
Hradyesh (2011–present)
ICML (2003–present)
Kerala Automobiles Limited (1984–present)
Mahindra & Mahindra (1945–present)
Reva (1994–present)
Pravaig Dynamics (2011–present)
Premier (1944–present)
Tara International (1978–present)
Tata Motors (1945–present)
Vehicle Factory Jabalpur (1969–present)
Foreign manufacturers building, or in a joint venture, in India
BMW India (2006–present)
Mini India (2013–-present)
Citroën India (2021–present)
Hindustan Motors (1942–present)
Honda Cars India (1995–present)
Hyundai Motor India (1996–present)
Kia India (2017–present)
Isuzu Motors India (2012–present)
Jaguar Land Rover India (2008–present)
FCA India Automobiles (2012–present)
Jeep India (2016–present)
Maruti Suzuki (1981–present)
Mercedes-Benz India (1994–present)
MG Motor India (2017–present)
Nissan Motor India (2005–present)
Datsun India (2014-present)
Renault India (2005–present)
Toyota Kirloskar Motor (1997–present)
Lexus India (2020–present)
Volkswagen India (2007–present)
Audi India (2007–present)
Porsche India (2004–present)
Škoda India (2001–present)
Top 10 Automobile Companies in India
Ashok Leyland Ltd.
Bajaj Auto Ltd.
Force Motors Ltd.
Hero MotoCorp Ltd.
Hyundai Motor India Ltd. (HMIL)
Mahindra & Mahindra Ltd.
Maruti Suzuki India Ltd.
Tata Motors Ltd.
Toyota Kirloskar India Pvt. Ltd.
TVS Motor Company Ltd.
Electrical Vehicles Company in India