About Lesson
In automotive design, the automobile layout describes where on the vehicle engine and drive wheels found.
Many different combinations of engine location and driven wheels are found in practice, and the location of each is dependent on the application the vehicle will be used for.
Factors influencing the design choice include cost, complexity, reliability, packaging (location and size of the passenger compartment and boot), weight distribution and the vehicle's intended handling characteristics.
Layouts can roughly be divided into two categories:-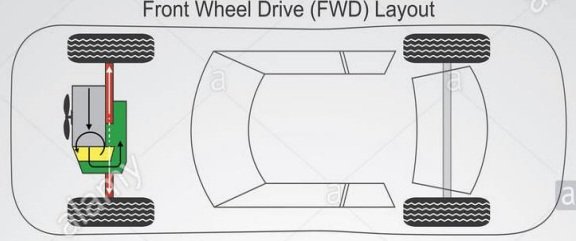 This configuration maximizes passenger space and creates a smooth ground line, consisting in a transverse under floor longitudinal power generator position. The length of the propeller shaft is decreased or ignored. Due to the power generator weight in the foreground, it has good traction on the road
In this arrangement, a front gear-differential mounted power generator that turns a couple of helical springs over a propeller shaft which is supported by universal joints is used with two beam axles connected leaf springs. An additional benefit of coil springs is that the front tires are individually suspended.
Four Wheel Drive
Four wheel drive vehicles may take on the characteristics of either, depending on how power is distributed to the wheels.
The front engine four-wheel power drive means the power generator is towards front of automobile and all wheels are driven by a mechanism out in order of their location, Off-road drivers frequently uses this layout.
A car layout is similar to a design plan or a blueprint, which tells about the component arrangements in a car. It also says about the drive train, power generator and other components and their placement. These layouts are used for their unique applications and they have their own advantages and disadvantages. There are nine types of car layouts in accordance to the wheel drive.
Front wheel drive
o Front engine
o Mid-engine
o Rear engine
Rear wheel drive
o Front engine

o Mid-engine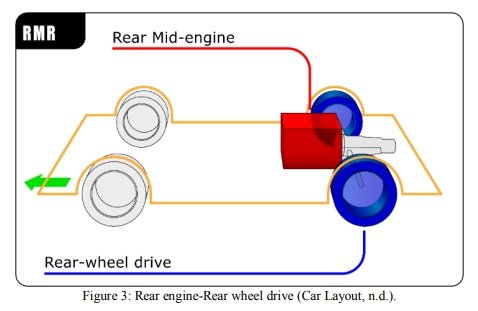 o Rear engine
All wheel drive
o Front engine