www.free-education.in provide study material to excel in exam. Technical courses, Competition Material , Engineering Blogs , Career Option and Much more… follow us for interesting blogs to enhance your skill and knowledge.  ( English Sentences )

99+ Daily use English Sentences which will help you to speak in English. English Sentences to improve your English speaking.
Let's Learn Some Interesting Daily use English sentences.
1. मैं जनवरी में पैदा हुआ था।
(Main January mein paida hua tha.)
I was born in January.
---
2. वो 2015 में घर आयेगा।
(Wo 2015 mein ghar aayega.)
He will come home in 2015.
---
3. मैंने जून 2009 में कम्पनी छोड़ी।
(Maine june 2009 mein company chodi.)
I left the company in June 2009.
---
4. मैं आधे घंटे में निकलूँगा।
(Main aadhe ghante mein niklunga.)
I will leave in half an hour.
---
5. मैं दिल्ली में रहता हूँ।
(Main Delhi mein rehta hun.)
I live in Delhi.
---
6. वो अमेरिका में पढ़ाई करेगा।
(Wo America mein padhai karega.)
He will study in America.
---
7. मुझे इस मोबाइल में गाने नहीं मिले।
(Mujhe is mobile mein gane nahi mile.)
I found no songs in this mobile.
---
8. हमने ये किताब में पढ़ा है।
(Hamne ye kitab mein padha hai.)
We have read it in the book.
---
9. अयांश आधे घंटे में निकलेगा।
(Ayansh aadhe ghante mein niklega.)
Ayansh will leave in half an hour.
---
10. मैं बैंक में काम करता हूँ।
(Main bank mein kaam karta hun.)
I work in a bank.
---
11. मैंने कम्प्यूटर में ये फोटो देखी।
(Maine computer mein ye photo dekhi.)
I saw this photograph in computer.
---
12. ये गाना तुम्हारे मोबाईल में है।
(Ye gaana tumhare mobile mein hai.)
This song is there in your mobile.
---
13. कॉफी को कप में ड़ालो।
(Coffee ko cup mein dalo.)
Pour the coffee into the cup.
---
14. वो कमरे में जा रहा है।
(Wo kamre mein ja raha hai.)
He is going into the room.
---
15. यह ट्रेन समय से पहले पहुँचेगी।
(Yeh train samay se pahale pahunchegi.)
This train will reach before time.
---
16. मैं तुम्हारे निकलने से पहले आऊँगा।
(Main tumhare nikalne se pehle aunga.)
I will come before you leave.
---
17. अब मैं आपके सामने खड़ा हूँ।
(Ab Main aapke samne khada hun.)
Now I am standing before you.
---
18. वो अपने पापा के सामने बैठा था।
(Wo apne papa ke samne baitha tha.)
He was sitting before his dad.
---
19. वो मेरे सामने खड़ा था।
(Wo mere samne khada tha.)
He was standing before me. /
He was standing in front of me.
---
20. वो मेरे सामने टिक नहीं सकता।
(Wo mere saamne tik nahi sakta.)
He can't stand in front of me. /
He can't stand before me.
---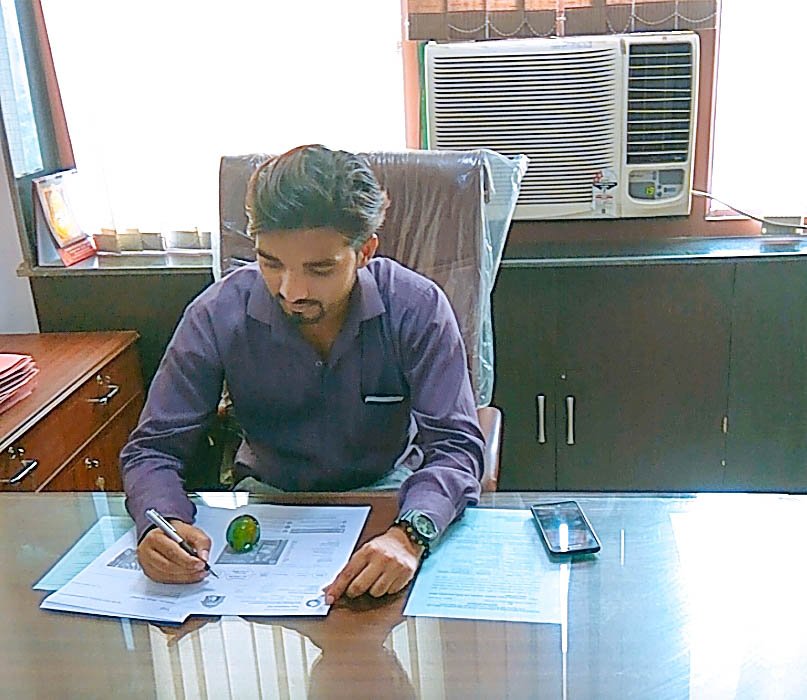 Mohd Sharif
Mohd. Sharif Qualification: B.Tech (Mechanical Engineering) [Founder of Wisdom Academy] [Aim Foundation & Free-Education.In] [Engineer By Profession | Teacher By Choice] [Blogger, YouTube Creator]