HVAC (Design and Drafting) Course.(Heating Ventilation & Air Conditioning)
Basically this course is design for mechanical engineer or for those student who want to work in HVAC industries.
We know that HVAC Design & Drafting course helps you core domains like Design and Drafting systems
This Course enables the entry level and working engineers to understand the basics, different systems used in Air Conditioning for Domestic and commercial purposes.
To achieve the optimal design, one should needs good analytical skills and up-to-date technical knowledge of various system designs. This training is useful to design HVAC Systems. This training is an opportunity to apply the academics and develop an understanding of how to develop solution-driven concepts and translate them into a complete set of plans and prototypes.
HVAC Required in Commercial Buildings, Airports, Shopping malls, Petrochemical complex, refineries, pharmaceutical industry, Aerospace industry, Hospitals etc..,
Here is the Qualification Required For HVAC Design and Drafting Course.
B.Tech (Mechanical Engineering)
Diploma (Mechanical Engineering)
ITI ( Refrigeration and Air-Conditioning)
In the below diagram We can see Scope of HVAC Engineer ( # HVAC Course )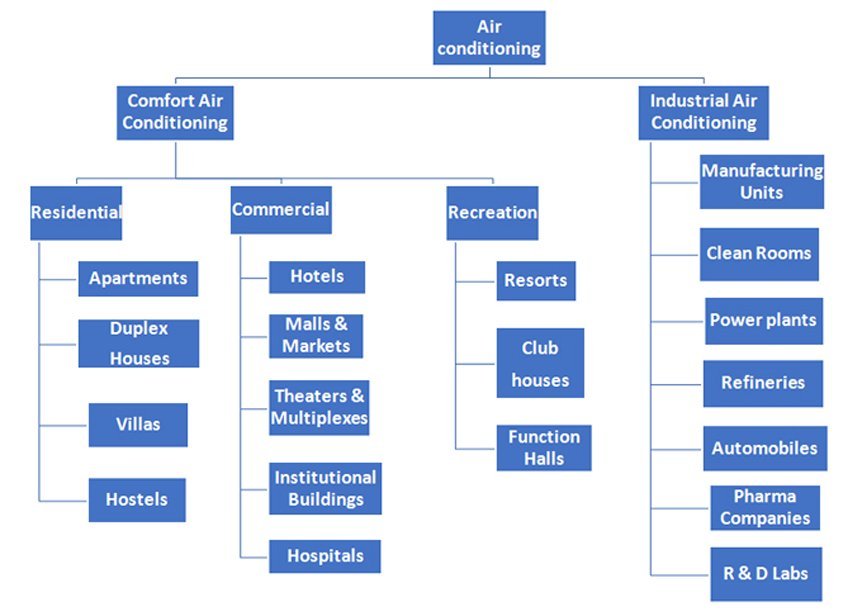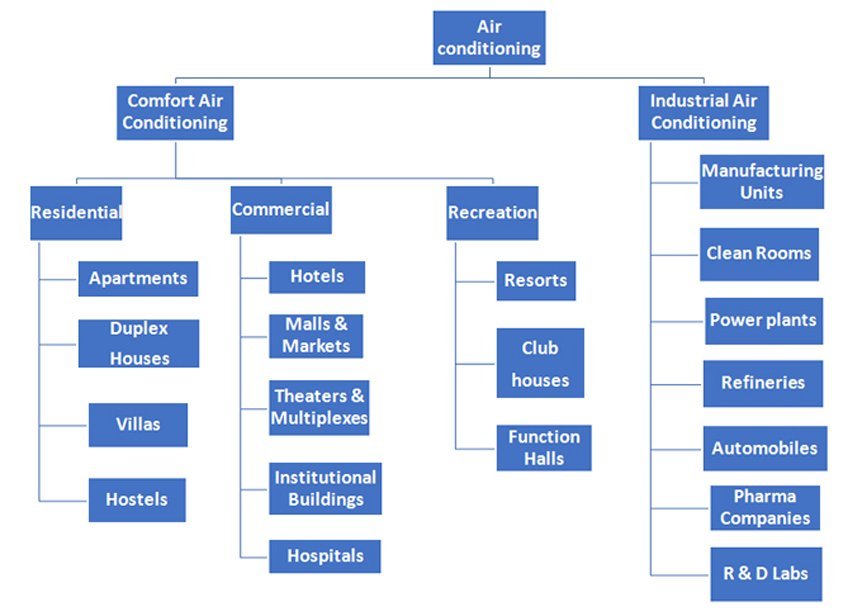 Here are some Career path for HVAC engineer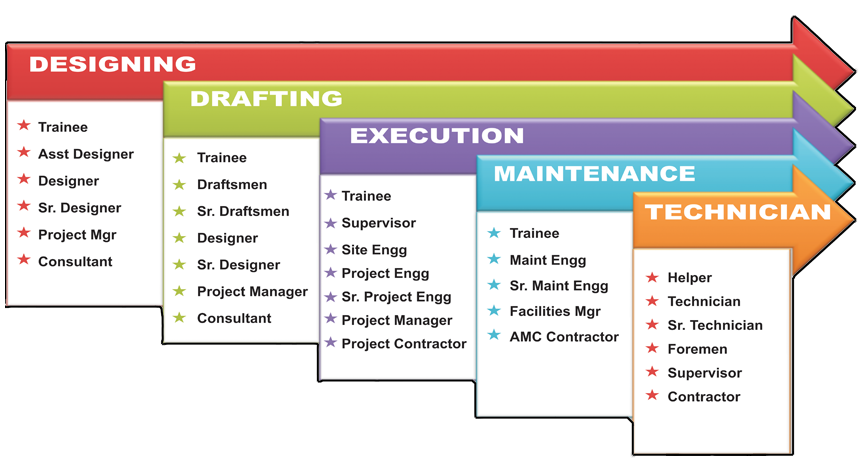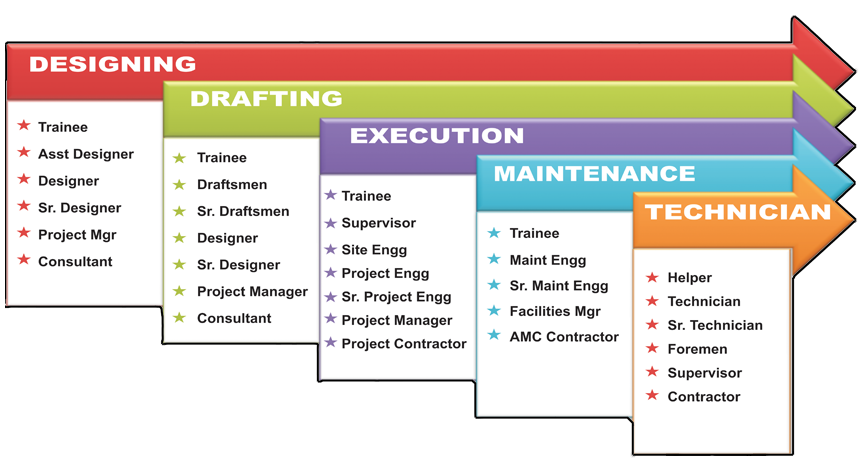 At the Below, Content of Course:-
Prelude to HVAC
Fundamentals
Modes of Heat Transfer
Sensible Heat and Latent Heat
Basic Components of Air-Conditioning and Refrigeration machines
Basic Refrigeration System or Vapor Compression Cycle
Pressure – Enthalpy Chart
what are Function & Types of Compressor
Function & Types of Condenser
what are Function & Types of Expansion Valve
Description Function & Types of Evaporator
Accessories used in the System
Refrigerant and Brines
Classification of Air-Conditioning System
Window A/C
Working of Window A/C with Line Diagrams
Split A/C
Types of Split A/C
Working of Split A/C with Line Diagrams
Ductable Split A/C
Working of Ductable Split A/C with Line Diagrams
Variable Refrigerant Volume (VRV)/ Variable Refrigerant Flow (VRF)
Ductable Package A/C
Working of Ductable Package A/C with Line Diagrams
Package Roof Top Units
Central Plant Chill Water System
Categories of Air Conditioning
All air system
All water system
Air – water system
Direct Refrigerant system
Study of Psychrometric Charts
Dry Bulb Temperature
Wet Bulb Temperature
Dew Point Temperature
Relative Humidity
Humidity Ratio
Processes
Heating
Cooling
Cooling and Dehumidification
Heating and Humidification
· Finding Values Using the Chart
Load Calculation
Survey of Building
Cooling Load Steps
Finding Temperature difference (ΔT)
Finding 'U' Factor
Finding Ventilation requirement for IAQ
Load Calculations (Manually using E-20 form)
ESHF, ADP & Air Flow Rate (CFM) Calculation
Air Distribution System
Duct-Definition & Terminology
And Duct Design consideration
Duct sizing methods
How to do Duct sizing as per Aspect Ratio
Finding Duct size using Ductulator
Calculation of Number of sheets for Duct
Gauge selection for Sheet Metal
Bill of Materials for Duct Network
Legends and Symbols used in the HVAC Industry
Selection of Diffusers and Grilles
Duct Materials and Insulation materials used in HVAC Industry
Study of Overseas Drawings
Duct Routing – Preparation of single line diagram (SLD)
Preparation of Layouts (Double line Diagram – DLD) as per SMACNA rules
Openings for Ducts passing through Wall
Sectional drawing @ Duct supports
Concept of CAV & VAV
Static Pressure Calculation
Selection of Motor HP
Selection Fan/Blower RPM
Hydronic System
Classification of Water Piping
Pipe sizing for chill water system
Fittings used in the HVAC Piping System
Valves used in the HVAC Piping System
Function of Valves
Openings for CHW Pipes passing through Wall
Sectional drawing @ CHW Pipe supports
Pump Head Calculation
Selection of Pump
Air Conditioning Concepts
Fire Protection (Awareness)
HVAC software's
XL sheet for Load Calculations
Duct sizer for Duct sizing
TroxCADBase for Diffuser & Grilles
Pipe sizer for Pipe sizing
Psychrometry Software
HVAC COURSE IN HINDI TOPICS WISE LECTURE (VIDEO)
We are also going to start online certification course for hvac design and drafting very soon……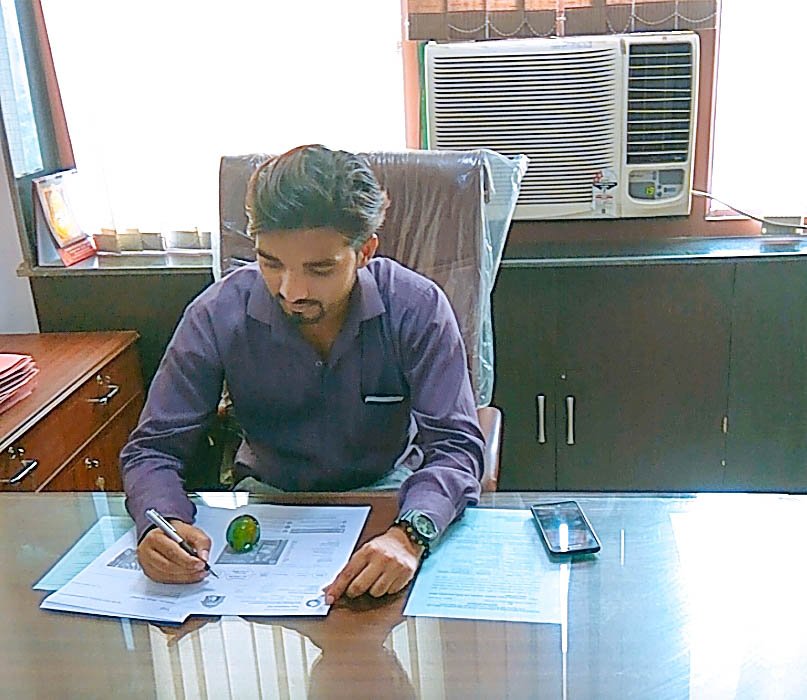 Mohd Sharif
Mohd. Sharif Qualification: B.Tech (Mechanical Engineering) [Founder of Wisdom Academy] [Aim Foundation & Free-Education.In] [Engineer By Profession | Teacher By Choice] [Blogger, YouTube Creator]