About Lesson
Conservative & Non-Conservative Forces
Conservative forces are those for which work done depends only on initial and final points.
Example- Gravitational force, Electrostatic force.
Non-Conservative forces are those where the work done or the kinetic energy did depend on other factors such as the velocity or the particular path taken by the object.
Example- Frictional force.
The Conservation of Mechanical Energy
Mechanical Energy is the energy associated with the motion and position of an object.
The quantity K +V(x), is called the total mechanical energy of the system.
For a conservative force, ΔK = ΔW = F(x) Δx
Also, – V(x) = F(x) Δx
This employs Δ(K+V) =0 for a conservative force.
Individually the kinetic energy K and the potential energy V(x) may vary from point to point, but the sum is a constant.
Conservative Force:
A force F(x) is conservative if it can be derived from a scalar quantity V(x) by the relation  : F(x) = – dv/dx
The work done by the conservative force depends only on the end points.
A third definition states that the work done by this force in a closed path is zero.
The total mechanical energy of a system is conserved if the forces, doing work on it, are conservative.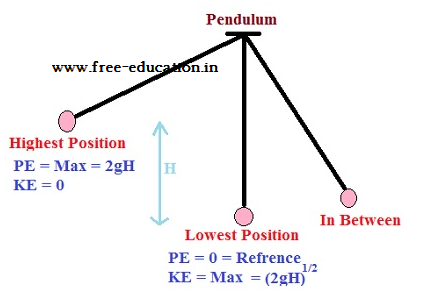 Potential energy of spring
The spring force is an example of a variable force, which is conservative.
In an ideal spring, Fs = − kx , this force law for the spring is called Hooke's law.
The constant k is called the spring constant. Its unit is N m-1.
The spring is said to be stiff if k is large and soft if k is small.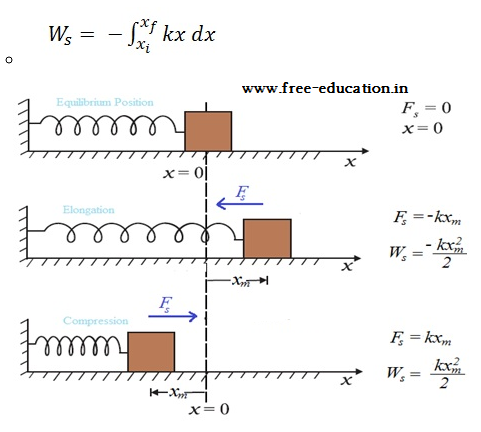 Spring force is position dependent as first stated by Hooke, (Fs = − kx)
Work done by spring force only depends on the initial and final positions. Thus, the spring force is a conservative force.
We define the potential energy V(x) of the spring to be zero when block and spring system is in the equilibrium position.
For an extension (or compression) x,  V(x) = kx2/2
If the block of mass m is extended to xm and released from rest, then its total mechanical energy at any arbitrary point x (where x lies between – xm and + xm) will be given by: