About Lesson
Inertia
Inertia is the resistance of a body to change its state of motion.
A body at rest wants to be at rest
A body in motion wants to be in motion
Have you experienced jerk when brakes are suddenly applied to the vehicle?
This happens because initially the car was in motion; the body was also in motion. Later, due to the application of brakes, the car came to rest; but the body due to its inertia still wants to be in motion. Therefore, the body doesn't come to rest at once and experiences jerk.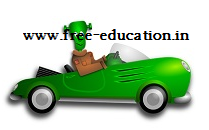 Galileo's Law of Inertia
Aristotle's Law was falsified by Galileo. Galileo corrected Aristotle's law saying "An external force is required to keep a body in motion, only if resistive forces are present"