About Lesson
Pressure in Fluids:-
Normal force exerted by fluid per unit area.
This means force is acting perpendicular to the surface of contact.
Consider a body submerged in the water, force is exerted by the water perpendicular to the surface of the body.

If there is no force applied perpendicularly but in the parallel direction then there will be motion along the horizontal direction.
Since fluid is at rest and body is submerged in the fluid. Therefore there cannot be motion along the horizontal direction.
Therefore we always say the force is applied perpendicularly.

Pressure is a scalar quantity. Because the force here is not a vector quantity but it is the component of force normal to the area.
Dimensional Formula [ML-1T-2]
I Unit: N/m2 or Pascal(Pa).
Atmosphere unit (atm) is defined as pressure exerted by the atmosphere at sea level.It is a common unit of pressure.
1atm=1.013×105 Pa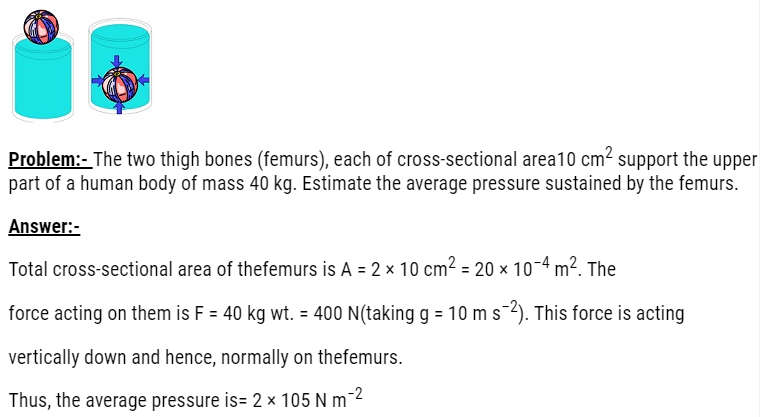 Pascal's Law
Pascal's law states that if the pressure is applied to uniform fluids that are confined,the fluids will then transmit the same pressure in all directions at the same rate.
Pascal's law holds good only for uniform fluids.
For example:-

Consider a vessel filled with water which is uniform throughout as there is only one type of fluid which is water.
Consider a vessel which has oil and water then it is not uniform.As it have two different fluids.
For example 2:-
Consider a vessel of circular shape filled with water which has 4 openings and in the entire openings 4 pistons are attached.
Apply force on the first piston; this piston will move inward and all other pistons will move outwards.
This happens because when this piston moves inwards the pressure is exerted on the water.Water transmits this pressure in all the directions.
The other pistons,except A, moves at the same speed which shows water has exerted pressure in all the directions.
Conclusion:-
For a uniform fluid in equilibrium, pressure is same at all points in a horizontal plane. This means there is no net force acting on the fluid the pressure is same at all the points.
A fluid moves due to the differences in pressure. That means fluid will always move from a point which is at a higher pressure to the point which is at a lower pressure.
Example: – Blowing of Wind. Wind is nothing but moving air. Air is a fluid so the air moves from the region of higher pressure to the region of lower pressure.