About Lesson
Determining the Time Period of Earth Satellite
Time taken by the satellite to complete one rotation around the earth.
As satellites move in circular orbits there will be centripetal force acting on it.
Fc=mv2/Re+h It is towards the centre.
Where

h= distance of satellite form the earth
Fc= centripetal force

FG= GmMe/(Re+h)2
where

Fg= Gravitation force
m= mass of the satellite
Me = mass of the earth

Fc=FG
mv2/Re+h = GmMe/(Re+h)2
v2=GMe/Re+h
v=√ GMe/Re+h (1)
This is the velocity with which satellite revolve around the earth.
The satellite covers distance = 2 π(Re+h) with velocity v.
T=2 π(Re+h)/v
2 π(Re+h)/ √GMe/Re+h From (1)
T=2 π(Re+h)3/2/ √ GMe)
Special Case:-
h<< Re (satellite is very near to the surface of the earth)
Then T=2 π√ Re3/GMe
After calculating
T=2 π√ Re/g
Energy of an orbiting satellite
m= mass of the satellite, v=velocity of the satellite
E.=1/2mv2
=1/2 m (GMe/Re+h) by using (1)
E. =1/2 GMe/(Re+h)
E.= -GMem/(Re+h)
Total Energy = K.E. + P.E.
=1 /2 GMe/(Re+h) + -GMem/(Re+h)
E.= GMem/2(Re+h)
Conclusion:-
P.E. = 2 x K.E.
Total energy is negative. This means the satellite cannot escape from the earth's gravity.
Problem: – Choose the correct alternative:
If the zero of potential energy is at infinity, the total energy of an orbiting satellite is
negative of its kinetic/potential energy.
The energy required to launch an orbiting satellite out of earth's gravitational influence is more/less than the energy required to project a stationary object at the same height (as the satellite) out of earth's influence.
Answer:
(a)Kinetic energy
(b)Less
(a)Total mechanical energy of a satellite is the sum of its kinetic energy (always positive) and potential energy (may be negative). At infinity, the gravitational potential energy of the satellite is zero. As the Earth-satellite system is a bound system, the total energy of the satellite is negative.
Thus, the total energy of an orbiting satellite at infinity is equal to the negative of its
Kinetic Energy.
(b)An orbiting satellite acquires a certain amount of energy that enables it to revolve around the Earth. This energy is provided by its orbit. It requires relatively lesser energy to move out of the influence of the Earth's gravitational field than a stationary object on the Earth's surface that initially contains no energy.
Problem: ( Class 11 Physics Gravitation )
The planet Mars has two moonsPhobos and delmos. (i) Phobos has a period 7 hours, 39 minutes and an orbital radius of 9.4 × 103 km. Calculate the massof mars. (ii) Assume that earth and mars move in circular orbits around the sun,with the Martian orbit being 1.52 times the orbital radius of the earth. What isthe length of the Martian year in days?
Answer:
By using T2 = k (RE + h)3  where (k=4 π2 / GME)
T2= (4 π2 R3/GMm)
Mm= 4 π2 R3/ G T2
=4 x (3.14)2x (9.4)3x1018/ (6.67×10-11 x (459×60)2)
=4 x (3.14)2x (9.4)3x1018/ (6.67 x (4.59×6)2×10-5)
=6.48×1023kg
 (ii) Once again By Kepler's third law
Tm2/Te2 = R3Ms/R3ES
Where RMS is the mars -sun distance and RES is the earth-sun distance.
∴ TM = (1.52)3/2 × 365
= 684 days
We note that the orbits of all planets except Mercury, Mars and Pluto are very close to being circular. For example, the ratio of the semi minor to semi-major axis for our Earth is, b/a = 0.99986.
Problem:-  Weighing the Earth: You are given the following data: g = 9.81 ms–2, RE = 6.37× 106 m, the distance to the moon R = 3.84× 108 m and the time period of the moon's revolution is 27.3 days. Obtain the mass of the Earth ME in two different ways.
 Answer:
ME = g RE2/G
=9.81 x (6.37x 106)2/6.67x 10-11
= 5.97× 1024 kg.
The moon is a satellite of the Earth. From the derivation of Kepler's third law
=4 π2 R3/GME
ME=4 π2 R3/GT2
=(4×3.14×3.14x(3.84)3x1024)/6.67×10-11x(27.3x24x60x60)2
= 6.02 ×1024 kg
Both methods yield almost the same answer, the difference between them being less than 1%.
Problem:- Express the constant k of in Eq. T2 = k (RE + h)3   where (k=4 π2 / GME) in days and kilometres. Given k = 10–13 s2 m–3. The moon is at a distance of 3.84 × 105 km from the earth. Obtain its time-period of revolution in days.
Answer Given
k = 10–13 s2 m–3
=10–13[d2/ (24x60x60)2] [1/ (1/1000)3km3]
= 1.33 × 10–14 d2 km–3
Using Eq. T2 = k (RE + h)3
and the given value of k, where (k=4 π2 / GME) the time period of the moon is
T2 = (1.33 × 10-14) (3.84 × 105)3
T = 27.3 d
Using Eq. T2 = k (RE + h)3 also holds for elliptical orbits if we replace (RE+h) by the semi-major axis of the ellipse. The earth will then be at one of the foci of this ellipse.
Problem:- Calculate the height of a geostationary satellite from the surface of the earth?
Answer:- For any geostationary satellite time period
T = 24hours = 24x60x60s
=86400sec
Orbital velocity v= 2 πR/T 
Where R= distance of satellite from the earth. It is given as R =RE + h
Fc= mv2/R
FG= GMem/R2
Fc = FG
mv2/R = GMem/R2
By simplifying,
v2= GMe/R
=4 π2R2/T 2= GMe/R
R3 = GM(T2/4 π2)
Acceleration due to gravity g =GM/RE2
GM=gRE2
R3 = gRE2 T2/4 π2
Therefore R= [gRE2 T2/4 π2]1/3
By putting the values and calculating,
R= 42147Km
R=RE+h
h=R- RE
=(42147 – 6.37 x 103 )
h= 35777km
The height of the geostationary satellite from the surface of the earth is 35777km.
Polar Satellites
These are low altitude satellites.This means they orbit around earth at lower heights.
They orbit around the earth in North-South direction.Whereas earth is moving from East to West.
A camera is fixed above this type of satellite so they can view small strips of earth.
As earth also moves, so at each instance different types of stripes of earth can be viewed.
Adjacent stripes of earth are viewed in subsequent orbits.
They are useful in remote sensing, meteorology and environmental studies of the earth.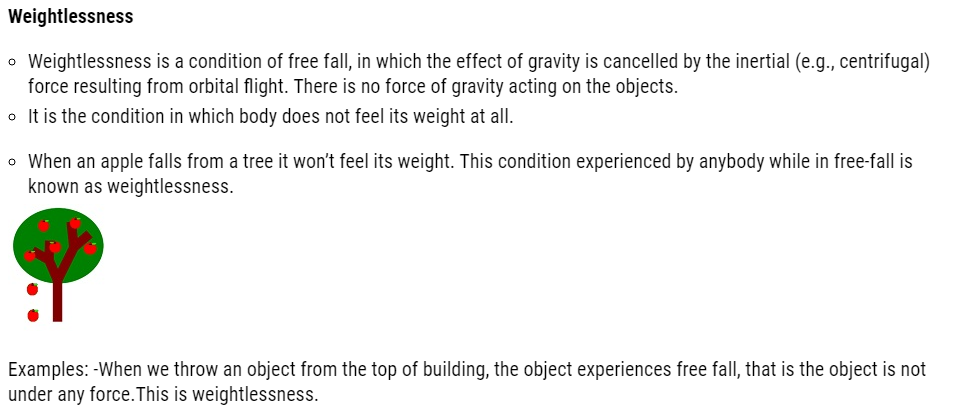 Weightlessness in the orbital motion of satellites
In case of a satellite that is rotating around the earth.
There is an acceleration which is acting towards the centre of the Earth.
This acceleration is known as centripetal acceleration (ac).
There is also earth's acceleration which is balancing this centripetal acceleration.

g=ac they are equal in magnitude and they are balancing each other.

Inside the satellites there is no acceleration which means everything is moving with uniform velocity.
Inside an orbiting satellite weightlessness is experienced.