About Lesson
Nodes and Antinodes of Standing Wave
The amplitude of a standing wave doesn't remain the same throughout the wave.
It keeps on changing as it is a function of x.
At certain positions the value of amplitude is maximum and at certain positions the value of amplitude is 0.
Nodes: – Nodes represent the positions of zero amplitude.
Antinodes: – Antinodes represent the positions of maximum amplitude.
Nodes:-
At nodes, amplitude is 0.
In case of the standing wave amplitude is given as :- 2asinkx
=> 2asinkx = 0 ,=>sinkx = 0,=>sinkx =sin n π => kx=n π
The value of x represents position of nodes where amplitude is 0.
x=(nπ)/k … equation(i)
From the definition of k=(2π)/λ … equation(ii)
The position of nodes is represented by: –x=(n λ)/2from(i) and (ii),where n=1, 2, 3…
Note: –Half a wavelength (λ/2) separates two consecutive nodes.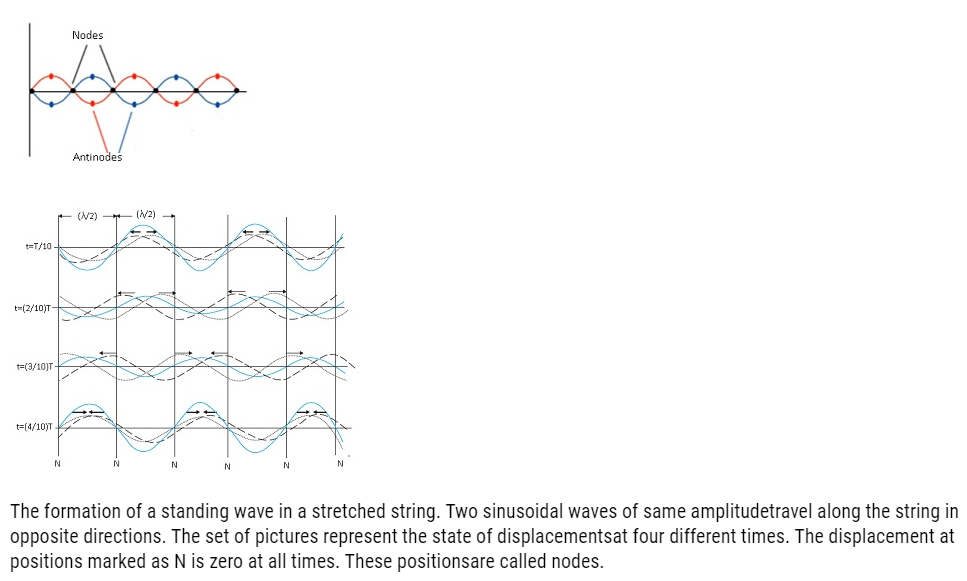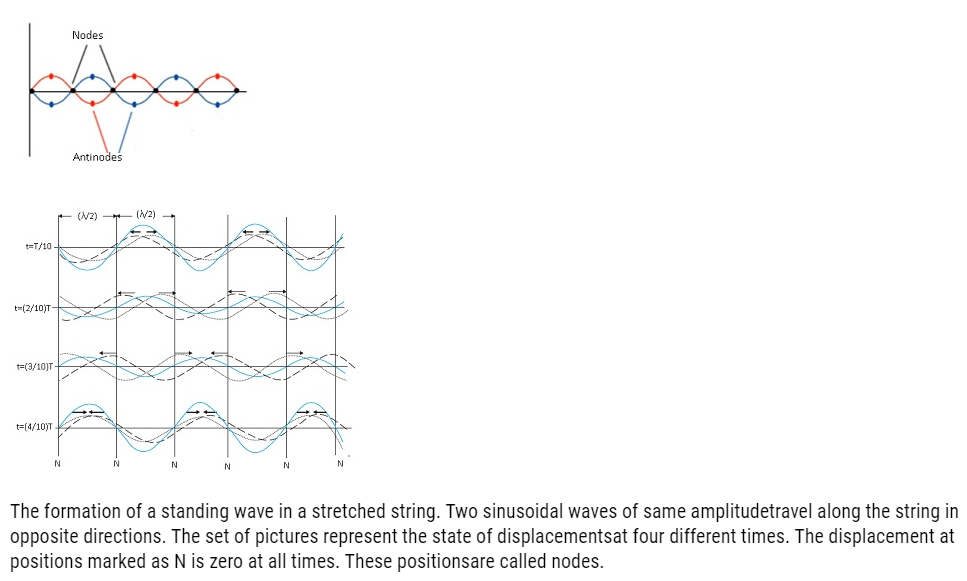 Nodes and Antinodes: system closed at both ends
System closed at both ends means both the ends are rigid boundaries.
Whenever there is rigid body there is no displacement at the boundary. This implies at boundary amplitude is always 0. Nodes are formed at boundary.
Standing waves on a string of length L fixed at both ends have restricted wavelength.
This means wave will vibrate for certain specific values of wavelength.
At both ends,nodes will be formed.=>Amplitude=0.
Expression for node x =(nλ)/2.This value is true when x is 0 and L.
When x=L:- L=(nλ)/2 =>λ=(2L)/n ; n=1,2,3,4,…..
λ cannot take any value but it can take values which satisfy λ=(2L)/n this expression.
That is why we can say that the standing wave on a string which is tied on both ends has the restricted wavelength.
As wavelength is restricted therefore wavenumber is also restricted.
ν =v/λ (relation between wavelength and frequency)
Corresponding frequencies which a standing wave can have is given as: –ν= (vn)/2Lwhere v= speed of the travelling wave.
These frequencies are known as natural frequency or modes of oscillations.