About Lesson
Strain
Strain is a measure of deformation representing the displacement between particles in the body to a reference length. 
It tells us how and what changes takes place when a body is subjected to strain. 
Mathematically:-  Strain = ΔL/L , where ΔL=change in length L= original length
It is dimensionless quantity because it is a ratio of two quantities. 
For example: – If we have a metal beam and we apply force from both sides the shape of the metal beam will get deformed. 
This change in length or the deformation is known as Strain.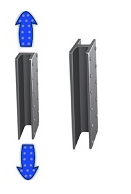 Types of Strain: Longitudinal Strain
Change in length to the original length of the body due to the longitudinal stress.
If we apply longitudinal stress to a body either the body elongates or it compresses this change along the length of the body. This change in length is measured by Longitudinal Strain.
Longitudinal Strain = ΔL/L
Mathematically

Consider a rod whose initial length is L after elongation length becomes L'.
So the change in length is ΔL= L' – L
So Strain= ΔL/L

Strain occurs as a result of stress.
Shearing Strain
Shearing strain is the measure of the relative displacement of the opposite faces of the body as a result of shearing stress.
If we apply force parallel to the cross – sectional area because of which there was relative displacement between the opposite faces of the body.
Shearing strain measures to what extent the two opposite faces got displaced relative to each other.
Mathematically:-

Consider a cube whose initial length was L which is at some position and when it gets displaced by an angle θ.
Let the small relative displacement be x.

Shearing strain= x/L
In terms of tan θ,
Shearing strain = tan θ = x/L
tan θ  is equal to  θ  (as θ is very small)
Therefore, x/L = θ
Volume Strain
Volume strain is defined as ratio of change in volume to the original volume as a result of the hydraulic stress.
When the stress is applied by a fluid on a body there is change in the volume of body without changing the shape of the body. 
Volume strain = ΔV/V 
For example:-
Consider a ball initially at volume V.
Problem:- Four identical hollow cylindrical columns of mild steel support a big structure of mass 50,000 kg. The inner and outer radii of each column are 30 cm and compressional strain of each column.
Answer:
Mass of the big structure, M = 50,000 kg 
Inner radius of the column, r = 30 cm = 0.3 m
Outer radius of the column, R = 60 cm = 0.6 m
Young's modulus of steel, Y = 2 × 1011 Pa
Total force exerted, F = Mg = 50000 × 9.8 N
Stress = Force exerted on a single column = 122500 N
Young's modulus, Y =𝑆𝑡𝑟𝑒𝑠𝑠/𝑆𝑡𝑟𝑎𝑖𝑛
Where,
Area, A = π (R2 – r2) = π ((0.6)2 – (0.3)2)
Strain = 122500/ (π [0.6)2 – (0.3)2] x 2×1011)
= 7.22 × 10–7
Hence, the compressional strain of each column is 7.22 × 10–7