About Lesson
Hydrides
The  dihydrogen combines with number of elements to form Hydrides . The general formula for hydrides are given below where E is any element.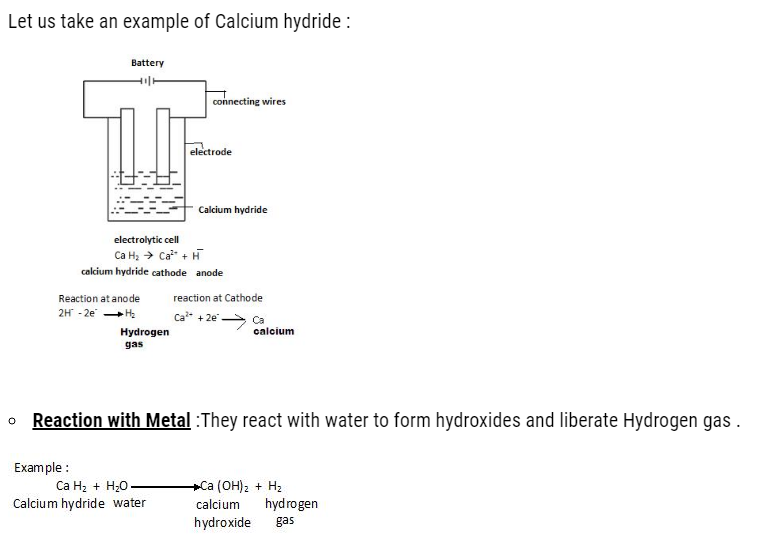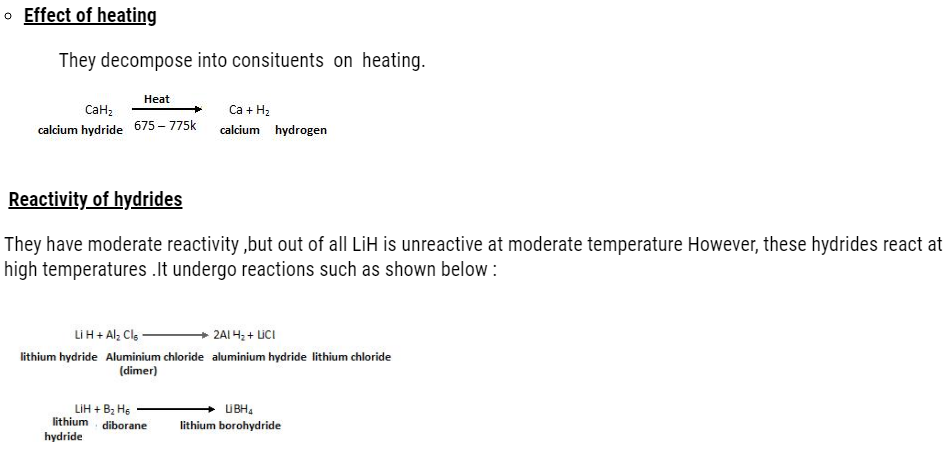 Covalent or molecular hydrides
They are mainly formed by p block elements and some s block elements ,which have less electronegativity difference than hydrogen.
Characterstics:
They are binary compounds .
They have covalent bond : Example – CH4(methane) , NH3(ammonia) , H2O(water) and  HF(hydrogen fluoride).
They are of three types :
Electron deficient : They have less electrons than its octet .
Example :  BH3 (Boron hydride-only 6electrons present ).Therefore, exist as B2 H6 (dimer).They act as Lewis acids .
Electron precise :They have have sufficient electrons .
Example : CH4(Methane) , SiH4 (Silicon hydride -have 8 electrons )
Electron rich : They have extra electrons that is more than the octet.
Example : Hydrides of group 15,16,17 act as Lewis bases .
Metallic  hydrides –
In this Hydrogen combines with  with d & f elements .Out of all group 6,7,8,9 does not form hydrides, but  group 3,4,5,10,11,12   can form hydrides.
This is called Hydride  gap (the inability of these groups  to form hydrides is called Hydride gap ).
  Characterstics :
They are deficient in Hydrogen
These are also called non-stochiometric hydrides.
Hydrogen occupy interstitial spaces between these atoms.
Ni , Pt , Pd , Ce , Ac , have these structure.
The catalytic reduction & Hydrogenation involves trapping of H2 between these atoms and this factor is  responsible for catalytic action.
They are good conductor of electricity.
They are harder than parent metal.