About Lesson
NCERT Solutions for Class 11 Chemistry Chapter 8 Very Short Answer Type Questions
Question 1. Define electrochemical cell.
Answer: Electrochemical cell is a device in which the redox reaction is carried indirectly and the decrease in free energy appears as electrical energy.
Question 2. What is a redox couple?
Answer: A redox couple consists of oxidised and reduced form of the same substance taking part in the oxidation or reduction half reaction.
Question 3. Define oxidation in terms of electronic concept.
Answer: Oxidation involves loss of one or more electrons by a species during a reaction.
Question 4. What is the source of electrical energy in a galvanic cell?
Answer: In a galvanic cell due to redox reaction released energy gets converted into the electrical energy.
Question 5. What is the oxidation state of Ni in Ni (CO)4?
Answer:  Zero.
Question 6. What is the oxidation number of P in H3P04?
Answer: 
Question 7. What is salt bridge?
Answer:  It is a U-shaped tube filled with agar-agar containing inert electrolyte like KCl or KNO3 which does not react with solutions.
Question 8. What is meant by reducing agent? Name the best reducing agent.
Answer: A species which loses electrons as a result of oxidation is a reducing agent. Li (Lithium).
Question 9. Why is standard hydrogen electrode called reversible electrode?
Answer: A standard hydrogen electrode is called reversible electrode because it can react both as anode as well as cathode in an electrochemical cell.
Question 10. What is a disproportionation reaction ? Give one example.
Answer: In a disproportionation reaction an element in one oxidation state is simultaneously oxidised and reduced.
For example,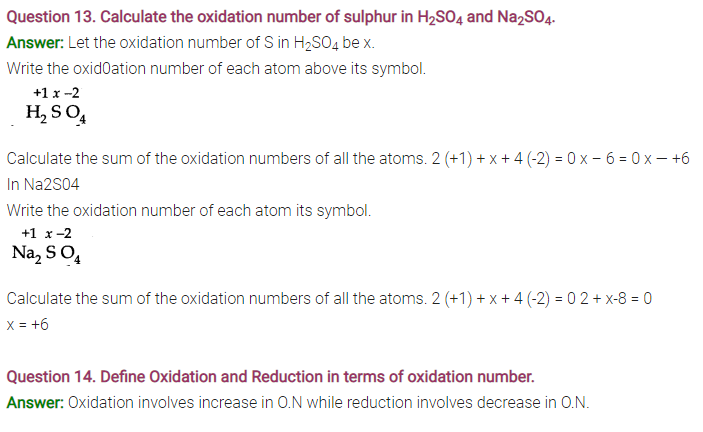 Question 15. Define EMF of cell.
Answer: EMF of a cell is the difference in the electrode potentials of the two electrodes in a cell when no current flows through the cell.
Question 16. Calculate the oxidation number of Cr in [Cr (H2O)6]3+ ion.
Answer:  H2O is a neutral molecule O.N of H2O = 0
Write the oxidation number of Cr above its symbol and that of H2O above its formula,
Question 18. How will you identify cathode and anode in electrochemical cell ?
Answer: At cathode there is gain of electrons.
At anode there is loss of electrons.
In electrochemical cell anode is written on L.H.S while cathode is written on R.H.S.
Question 19.  Identify the oxidant and the reductant in the following reaction. 
N2H4(g) + ClO4(aq) ———–> NO(g) + Cr(aq)
Answer:  N2H4is reducing agent i.e., reductant whereas Cl03–is oxidising agent i.e., oxidant.
Question 20. What is oxidation number of Fe in [Fe(CO)5] ?
Answer: x + 5 (0) =0 , x = 0
Question 21. In the reaction .
M4O2 + 4HCI ————-> M4Cl2 + Cl2 + 2H20
which species is oxidised.
Answer: HCl gets oxidised.