About Lesson
Introduction
The elements in which the last electron enters the outermost s-orbital are called s-block elements. s-block has two groups (1 and 2).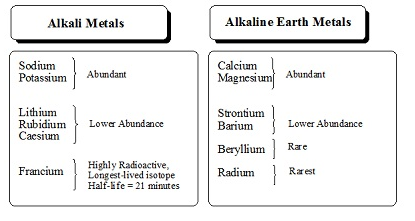 Diagonal Relationship
The similarity in the properties of definite pairs of diagonally adjacent elements in the second and third periods of the periodic table is called diagonal relationship.
In s-block elements Lithium is the first element of group 1 whereas Beryllium is the first elementsof Group 2.
Some of their properties do not match with the properties exhibited by other elements of their group.
Instead their properties resemble the properties of the second element of the following group due to the similarity in ionic sizes and /orcharge/radius ratio of the elements.
Consequently lithium and magnesium have similar properties whereas Beryllium and Aluminium exhibit similar properties.
This relation is called diagonal relationship.

Both the elements are harder and lighter than the other elements.
Both of them react slowly with
The oxides and hydroxides of both the elements are less soluble.
The hydroxides of both the elements decompose on heating.
Both the elements form nitrides by combining directly with nitrogen.
6 Li+ N2 (g) = 2 Li3N
3 Mg(s) + N2 (g) = Mg3N2(s)
Both Li2O and MgO do not produce their superoxide by combining with excess oxygen.
Chlorides of both lithium (LiCl) and magnesium (MgCl2) are soluble in ethanol, are deliquescent and crystallize as hydrates.
LiCl·2H2O
MgCl2·8H2O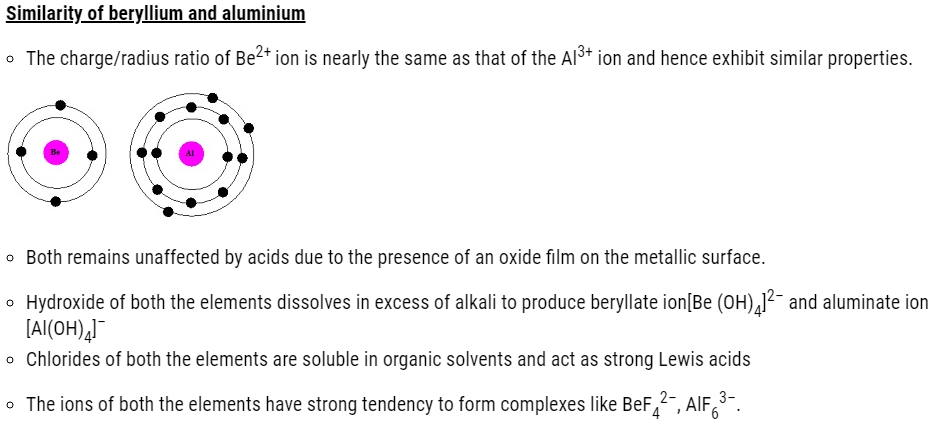 Atomic and Ionic Radii of alkali metals
In Group 1 the atom of the atomic and ionic radii increases down the group.
Increase in atomic number increases the size of the atom of the elements.