About Lesson
Ionization Enthalpy and Hydration Enthalpy of alkali metals
Ionization energy is the quantity of energy required to remove loosely bound electron from an atom.
Down the group ionization enthalpies of alkali metals decreases.
Increase in atomic number increases the size of the element which in turn outweighs increasing nuclear charge. Therefore the outermost electron experiences strong screening effect from the nuclear charge.
The energy released as a result of the formation of new bonds between ions and water molecules is called hydration enthalpy.
In alkali metals the hydration enthalpies decreases with the increase in ionic sizes.
Li+> Na+ > K+ > Rb+ > Cs+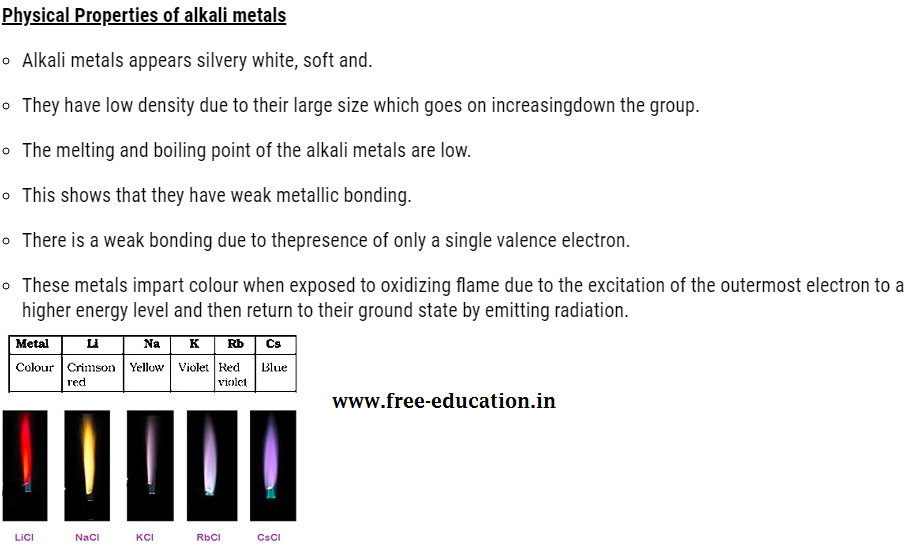 Chemical Properties of alkali metals
(i) Reactivity towards air
Alkali metals get tarnished in the presence of dry air due to the formation of their respective oxides.
The metallic oxide so formed further reacts with moisture to form hydroxides.
The alkali metals burn vigorously in oxygen and form their respective oxides.
4Li + O2 –> 2Li2O (Oxide)
 (ii) Reactivity towards water:
The alkali metals react with water and forms hydroxide and dihydrogen.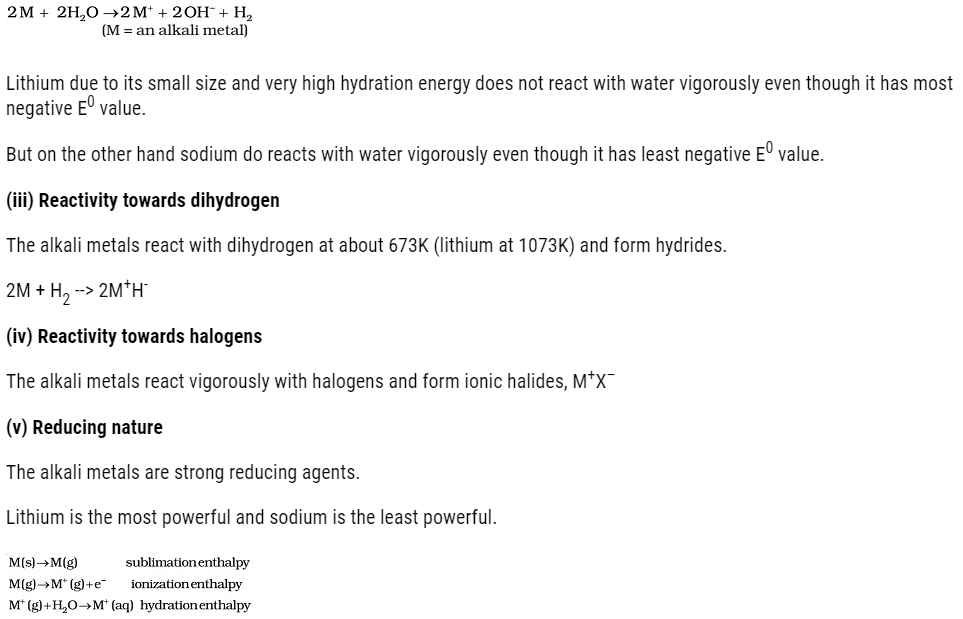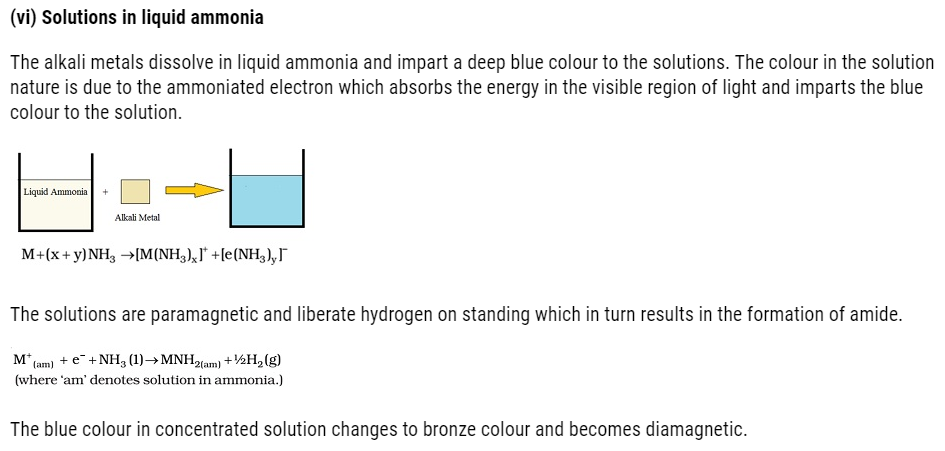 Anomalous properties of lithium
Anomalous behaviour of an element refers to the deviation of the properties and behaviour of an element from its usual or normal behaviour.
 It is due to the following reasons:
(i) Exceptionally small size of its atom and ion
(ii) High polarizing power
The anomalous behaviour of lithium is as follows:
Lithium is harder than other metals of the respective group.
It has higher Melting and boiling point than other metals
It is least reactive.
It is strongestreducing agent.
Unlike other metals LiCl is deliquescent and exist as LiCl.2H2
Li+ ion polarizes water molecules readily than other alkali metals of the respective group and hence the lithium salts attracts the water molecules and it exists as water of crystallization (2H2O). As the polarizing power decreases with the increasing size of the ions the other alkali metal ions usually form anhydrous salts.
Lithium does not form ethynide on reacting with Ethyne.
Heating lithium nitrate results in the production of lithium oxide, Li2
4LiNO3 –> 2Li2O + 4NO2 + O2
Lithium nitrate          Lithium oxide
Heating nitrates of other alkali metal results in the decomposition of the nitrate leading to the production of their corresponding nitrite.
2NaNO3 –> 2NaNO2 + O2
Sodium nitrate                  Sodium nitrite