About Lesson
Preparation of washing soda by solvay's process
The Solvay process is extensively used for industrial preparation of sodium carbonate (soda ash). The process is named after Ernest Solvay who developed the process during the 1860s.
Carbon dioxide reacts with the dissolved ammonia to form ammonium carbonate followed by ammonium hydrogen carbonate.
2NH3 +H2O + CO2 —> (NH4)2CO3
(Ammonia)                 (Ammonium Carbonate)
(NH4)2CO3 + H2O + CO2 –> NH4HCO3
(Ammonium Carbonate)       (Ammonium hydrogen carbonate)
NH4HCO3       +          NaCl  –>   NH4Cl     +    NaHCO3
Sodium hydrogen carbonate crystal separates. These are heated to give sodium carbonate.
     2 NaHCO3       –>      Na2CO3 + CO2 + H2O
But this process cannot be used to prepare potassium due to the high solubility of potassium bicarbonate and hence difficult to be precipitated by adding ammonium bicarbonate to a saturated solution of potassium
Caustic Soda
The chemical name of caustic soda is Sodium Hydroxide (NaOH).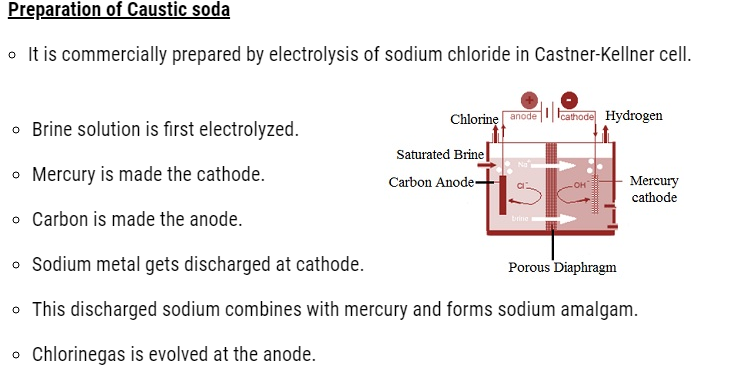 Atomic and Ionic Radii of alkaline earth metal
The atomic and ionic radii of the alkaline earth metals are smaller than alkali metals due to the increased nuclearcharge in these elements.
Theatomic and ionic radii increase with increase in atomic number within a group.