About Lesson
IUPAC and Common names of compounds
Example: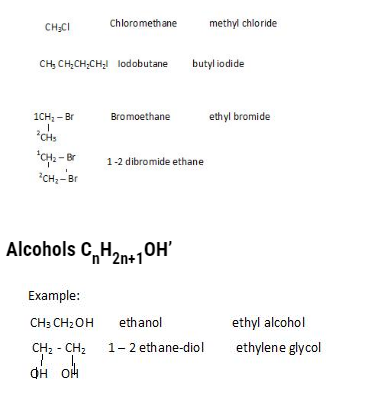 Aldehyde (Alkanals) CnH2n+1 CHO
HCHO  Methanal   Formaldehyde
CH3CHO  Ethanal  Acetaldehyde
CH3CH2CHO  Propanal propion Aldehyde
Ketone :CnH2n+1CO CnH2n+1
CH3-CO-CH3 Propanaone DiMethylKetone
CH3-CO=CH2CH3  Butanone   EthylMethyl Ketone
Carboxylic acid: – CnH2n+1COOH
HCOOH = Methanoic Acid   Formic Acid
CH3COOH = Ethanoic Acid   Acetic Acid
Amines: – CnH2n+1NH2
CH3NH2  Methane-Amine   MethylAmine
RULES FOR IUPAC
Select the longest continuous carbon chain.
Longest chain with maximum number of substituent is selected.
Numbering is done in such way that substituent gets the lowest number.
It two substituent are present, than we follow as the lowest sum rule.
If the same subsequent appears twice or thrice then di, tri, or is used.
If different substituent is present, than alphabetical order is followed.
If double or triple bond is present in addition to substituent then double or triple bond gets the lowest number.
If both double and triple bond are present, than lowest number is given to double bond.
In IUPAC: Name is written in order-
Prefix… Word Root…. Primary Suffix….. Seconadry Suffix
In case of double & triple bond
Select chain that involves double or triple bond.
Suffix ene or yne are used.
Multiple bonds should get the lowest number.
If multiple bond occurs two or more, than prefix di, tri etc.
Double bond is given preference over triple bond.