About Lesson
Viscosity
Viscosity refers to the resistance to the flow of liquid arising as a result of the internal friction within the layers as they pass over other layer.
Viscosity arises due to the strong intermolecular forces between the molecules that holds them together and resist the passing of layers over other.
The layers of molecules of the flowing liquid that are in contact with the surface are stationary.
Increase in the distance between the two layers increases the velocity of the upper layer.
Flow of liquid with regular gradation of velocity while passing over other layer is termed as laminar flow.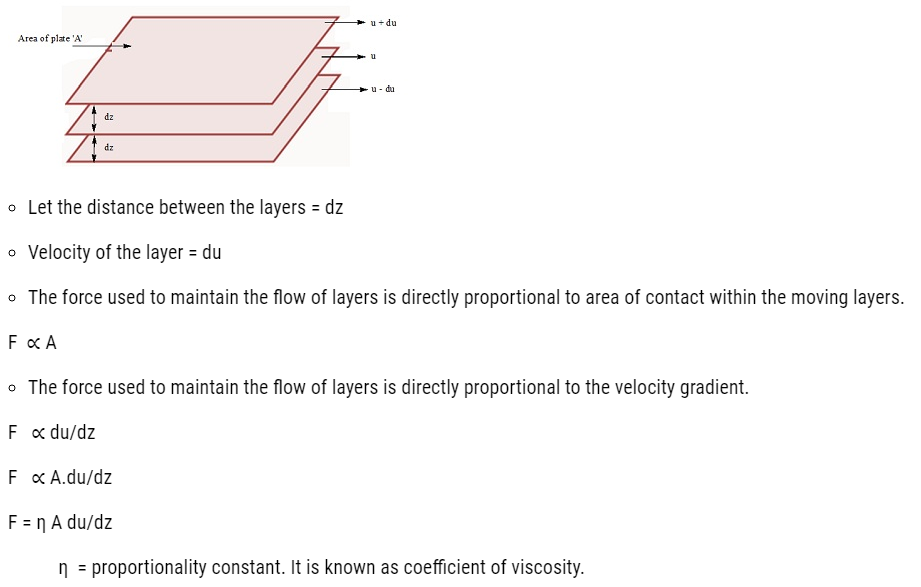 It is equal to the force when the velocity gradient and area of contact is unity. Therefore, η can be called the measure of viscosity.
It is measured in unit called Nsm-2.
Problem:
A liquid is streaming between two layers. Figure the shearing power if the shear speed is 0.25 m/s and has length 2 m and element thickness is 2Ns/m2.
Solution:
d u = 0.25 m/s,
d z = 0.125/s
η = 2 Ns/m^2
F = η A du/dz
F = 2 Ns/m2 × 0.125 /s
F = 0.5 N/m2